2021-04-18 GreatAlbum Update for Pioneer Incubator
KPI: results
1000 users+waiting list:  23 active
1000 google photos imported via API: 120 done
Pitch to 25 founders/investors in Mar-May: 11 done
Quick reminder: what are you building, in a sentence?
GreatAlbum helps you catalog & auto organize your photos/videos and relive experiences with family & friends.
Here's what you planned to do this week:
📸Test Google photos importer V2
⏭️Beta5 Sprint 25% done
🛬greatalbum.net redesign 50% done
👨‍💻Participate in DrupalCon NA
🎬Pitch 2 founders/investors
🛠 Refine Customer Overview and Investor Pitch decks
📰1-2 Blog posts
What did you accomplish this week? Did you do everything you planned?
📸Test Google Photos Importer v2 completed
⏭️Beta5 sprint slowed while we fix issues😱
🎨greatalbum.net redesign done https://bit.ly/2OY4Rp2
👨‍💻Participated in DrupalCon NA!
🎬6 Pitches to founders/investors, deck improved
📊KPI Dashboard - see below
Optional video of this week's progress
https://www.loom.com/share/0edb737bd9ef4e2aa605fbd1202a1704 
What do you want to have done by the end of next week?
⏭️Beta5 Sprint 25% done
🛬greatalbum.net redesign implemented
🔰Meet ML engineers - design pattern engine
🎬Pitch 3 founders/investors/F&F
📰1-2 Blog posts
What would you like feedback on from the community?
Project website
Which of these best describes the stage of your project?
Privately testing with users
KPI Dashboards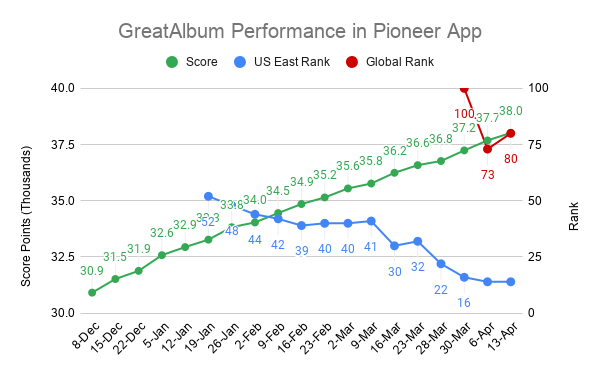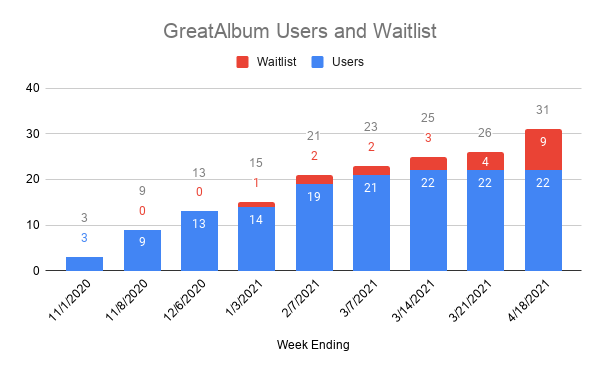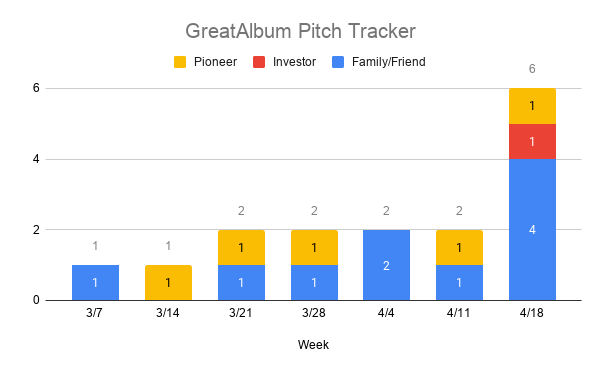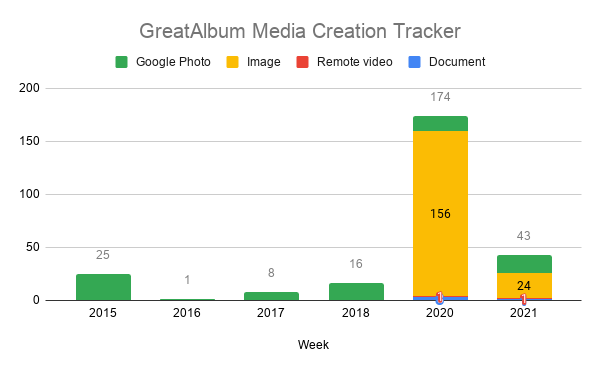 Feedback from Pioneer Community
The landing page update looks great! Keep up the good work. Do you have live beta users? I'm not sure you should commit so much effort/time on ML features unless it's a key feature your users want. Sometimes easier features are more critical for users that you haven't thought about. Looks very good though! Keep up the good work
Your website: think the animated flower of pics is great. If you can make it work seamlessly, I would above the fold. And the title next to it, "Feel overwhelmed by all your personal media?" doesn't need a subtitle. I think that pair is a strong combination although I'd change media for pics and videos.
The new landing page is an improvement, but it makes me think this is a service business, rather than a tech app at the first impression.

For example, I can't tell if there's a mobile app by looking at the page. If I didn't have context from following your work on Pioneer, maybe it wouldn't have been immediately clear to me that it's a web app, too.

Apple makes this clear: https://www.apple.com/in/ios/photos/
Related Issues
"No issues related to this Article"
Related Discussions
"No discussions related to this Article"