2021-04-25 GreatAlbum Update for Pioneer Incubator
Submission
KPI: results
1000 users+waiting list:  38 active
1000 google photos imported via API: 267 done
Pitch to 25 founders/investors in Mar-May: 22 done
Quick reminder: what are you building, in a sentence?
GreatAlbum helps you catalog & auto organize your photos/videos and relive experiences with family & friends.
Here's what you planned to do this week:
⏭️Beta5 Sprint 25% done
🛬greatalbum.net redesign implemented
🔰Meet ML engineers - design pattern engine
🎬Pitch 3 founders/investors/F&F
📰1-2 Blog posts
What did you accomplish this week? Did you do everything you planned?
⏭️Beta5 - refocused team; restart sprint bit.ly/sfdsafd
📸Google Photos bit.ly/sfdsafd
🔰Met ML engineers; kicked off pattern matching project
🎬6 Pitches to founders/investors/f&f, making tons of improvements
👨‍💻Reviewing 50 CVs - DevOps & UI/UX
📊KPIs http://bit.ly/
What do you want to have done by the end of next week?
⏭️Beta5 Sprint 50% done
🎨greatalbum.net redesign implemented
👨‍💻Interview DevOps & UI/UX candidates
📽️2-min product video
🎬Revise pitch deck & business plan
📰1-2 Blog posts
What would you like feedback on from the community?
Which of these best describes the stage of your project?
Privately testing with users
KPI Charts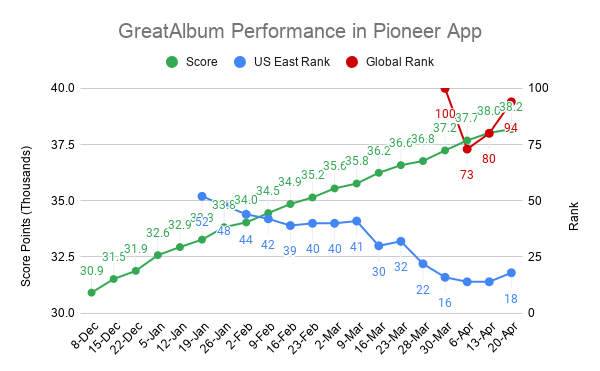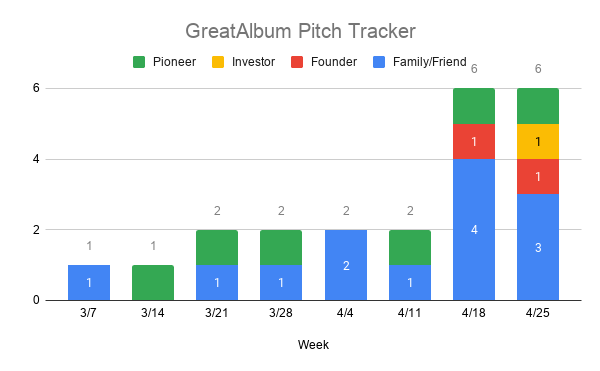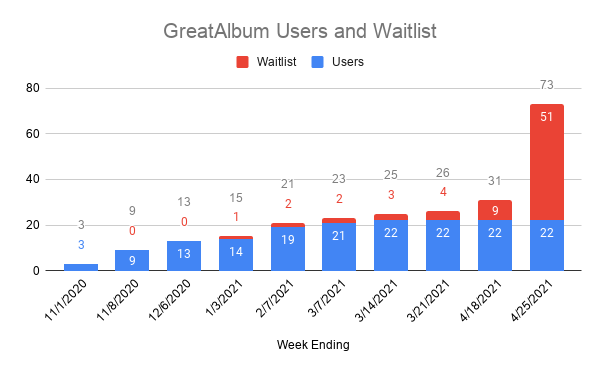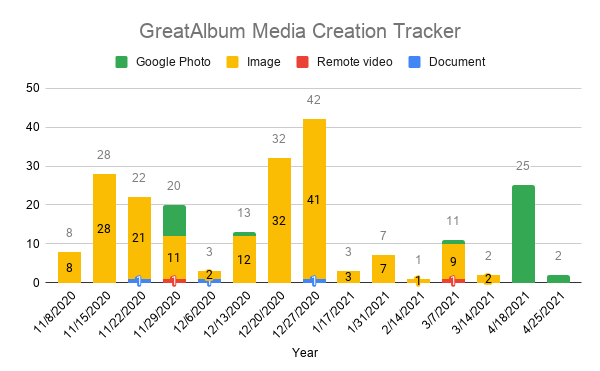 FEEDBACK FROM PIONEER COMMUNITY
It was great to see you again last week! I'll get right to the feedback because I love your project and thank there's a lot of low hanging fruit with respect to you deck:

1. New Landing Page - it's fine but your logo is hard to read on web (colors, fonts/size, etc)
2. Deck

a. Way too much text (try to start fresh with one sentence per slide 1st)
b. Your suggests validation - pull it back a stage

Great job!
The idea and design are very cool. I am quite surprised that Google photos, Instagram do not do this. Something that may be valuable is to talk about why your product is unique compared to those products (that are free?). Have you been able to procure paying customers? May be a useful metric to track. Best of luck!
Great project and progress!
Landing page is very good, clear and inviting!
Regarding your pitch, take a look at the following examples:
https://piktochart.com/blog/startup-pitch-decks-what-you-can-learn/#Airbnb
Hope this helps!
Good luck!
Related Issues
"No issues related to this Article"
Related Discussions
"No discussions related to this Article"