2021-05-09 GreatAlbum Update for Pioneer Incubator
Submission
What are we building?
GreatAlbum helps you catalog & auto organize your photos/videos to share and relive experiences with family & friends
Here's what we planned to do this week:
⏭️Beta5 Sprint 75% done
🎨greatalbum.net redesign implemented
👨‍💻Interview new DevOps & UI/UX candidates
📽️v2 of demo video
🎬Pitch revised pitch/business plan to 3 founders
📰1-2 Blog posts
What did you accomplish this week? Did you do everything you planned?
⏭️Beta5 Sprint 75% done
👨‍💻Reposted JD for DevOps role; gathering more candidates
🎨Excellent session with design agency who will redo our UI everywhere! 
📽️Demo videos pt1 & pt2 (see links below)
🎬Pitched to 3 founders/investors
📊Journal & KPIs https://bit.ly/33m68tE
What's the current status on your KPIs?
What's the current status on our KPIs? (see charts below)
Beta users + waiting list members:  155 of 100 by May 31st
1000 google photos imported via API: 409 of 1,000 by May 31st
Pitch to founders/investors/incubators in March-May: 26 of 25 by May 31st
1-Minute video highlight for this week
What do we want to have done by the end of next week?
⏭️Beta5 Sprint 100% done
🎨Onboard UI designer; implement new landing page
👨‍💻Interview new DevOps candidate
📽️Demo video v3
🎬More detailed business plan 
📰1-2 Blog posts
What would you like feedback on from the community?
https://bit.ly/2OY4Rp2 landing page
https://bit.ly/3hfYRDI demo video pt1
https://bit.ly/3bcBcQU demo video pt2
http://bit.ly/ga-pitchdecku
KPI Charts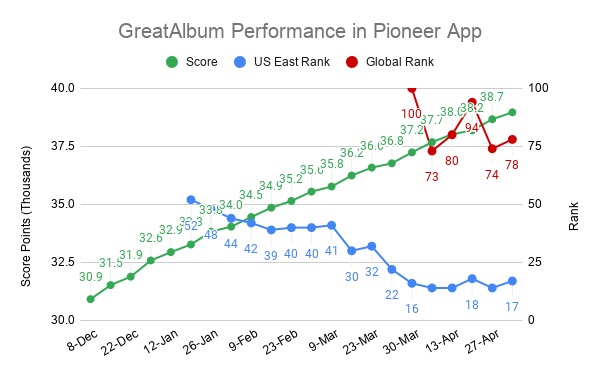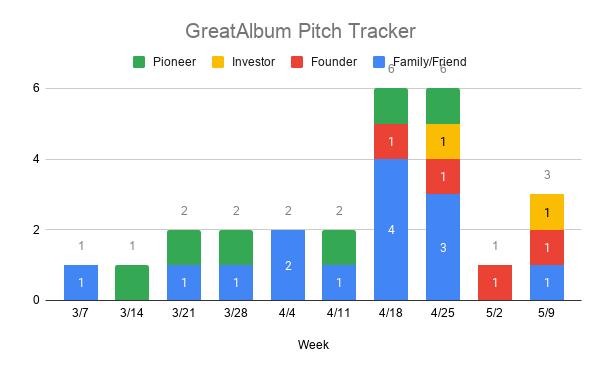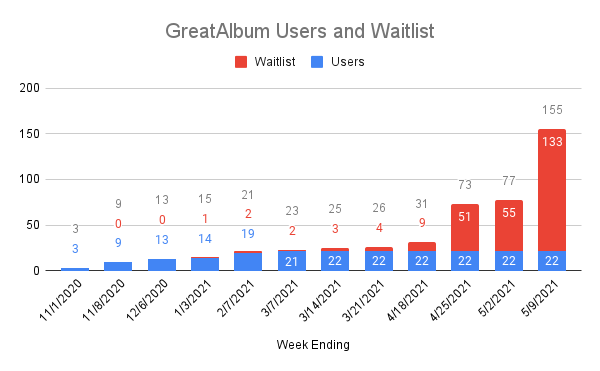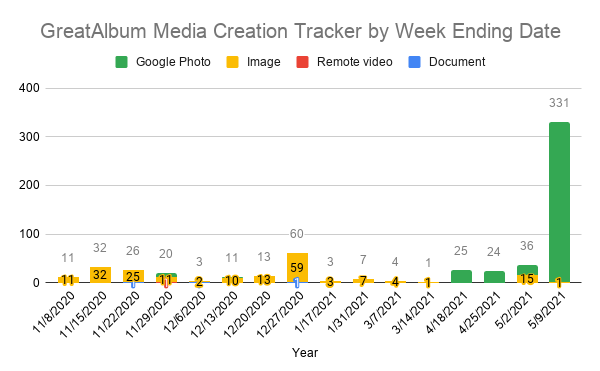 Feedback from Pioneer Members

Hummii
This sounds incredible and very useful personally as our mother & grandma just deleted facebook but still would like shared photo albums with our larger family. What's the value add of this over google photos or a share icloud album?
Best of luck and one advice on the landing page which Im sure you'll do is fill it with actual testimonials/blog links.
Keep up the great work!

roboflow.com
The spinning fractal graphic on the landing page made me dizzy. Typo: "improt"
There are niche apps in the parenting space for sharing moments with family that may be good to look at for inspiration. Tinybeans is a popular one. They have been able to overcome the network effects of FB; not an easy feat!
The demo video should grab your attention & get to the point quicker.
Pitch deck link was broken unfortunately.
Related Issues
"No issues related to this Article"
Related Discussions
"No discussions related to this Article"