2021-06-20 GreatAlbum Update for Pioneer Incubator
Submission
KPI: results
MPV2 launched: 50% of 100%
Users+waiting list: 847 of 2000
Google photos imported via API: 3,074 of 4000
What are you building, in a sentence?
GreatAlbum helps you consolidate & organize your photos/videos across services/devices to share and relive experiences with family & friends
Here's what you planned to do this week:
⏭️Beta6 sprint 50% done
🎨GreatAlbum blog site redesign implemented
🎨GreatAlbum app redesign done
📸Media recognition prototype 25% done
📰1 Blog posts
What did you accomplish this week? Did you do everything you planned?
⏭️Beta6 sprint 25% done
🎨GreatAlbum blog site redesign done; being pushed to PROD
🎨GreatAlbum app site redesign 33% done
📸Media recognition engine 25% done
📰Blog post https://bit.ly/3gIcvO8
📊Journal & KPIs https://bit.ly/3cVVajQ
What do you want to have done by the end of next week?
⏭️Beta6 sprint 50% done
🎨GreatAlbum blog site redesign implemented
🎨GreatAlbum app site redesign 67%
📸Media recognition engine 50% done
⏭️Beta7 Sprint Objectives and Roadmap refined
📽️Demo video v5
📰1 Blog post
What would you like feedback on from the community?
Project website
Which of these best describes the stage of your project?
Privately testing with users
KPI Dashboards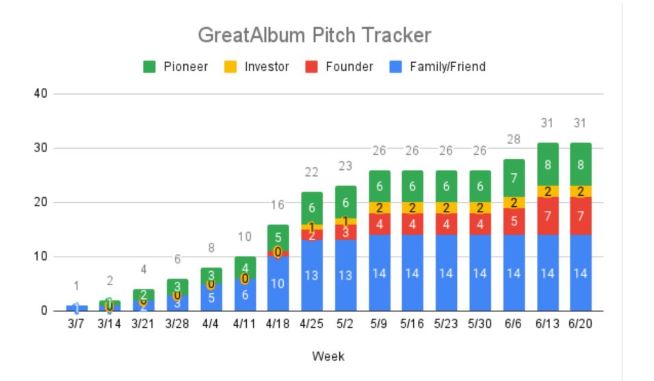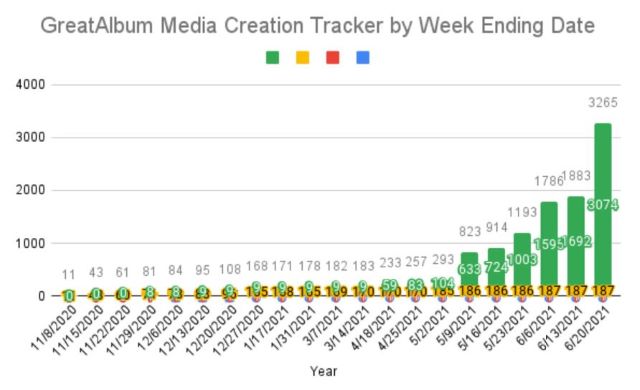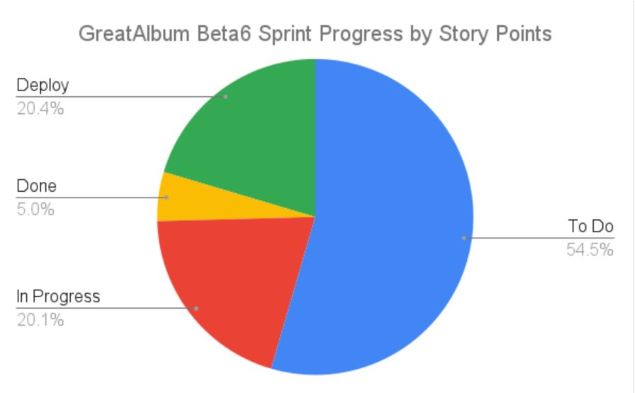 Key Feedback from Pioneer Members:
Brainsprays.com
Hey, Erik - how are you? Tons of progress here - congrats! Looked at the pitch deck, same comments (great content, but lots of text, great company, but logo does't text of "album" is hard to read on your deck and elsewhere). Love the project, of course and happy to see the progress. You have nothing to lose here on Pioneer as a testbed for graphics. Maybe A/B test graphic "album" v text album in update? 1 link=maxCTR
UnitedBits
Interesting and strong project and good progress this week also!
for pitch deck my recommendation:
problem->solution-> all the rest
https://www.slideshare.net/PitchDeckCoach/airbnb-first-pitch-deck-editable
good luck!
GrowWithGuru.com
I am from a big family so this concept speaks to me! Your landing page could use work - looks like its from 5-10 years ago. Pantheon site won't load for me so can't give feedback there. Pitch deck is informational but too busy. Try taking some inspiration from this: https://guykawasaki.com/the-only-10-slides-you-need-in-your-pitch/ it was critical for me!
Related Issues
"No issues related to this Article"
Related Discussions
"No discussions related to this Article"