2021-07-04 GreatAlbum Update for Pioneer Incubator
Submission
KPI: results
MPV2 launched:  35% of 100%
Google photos imported via API: 3074 of 4000
Users+waiting list:  1084 of 2000
What are you building, in a sentence?
GreatAlbum helps you consolidate & organize your photos/videos across services/devices to share and relive experiences with family & friends
Here's what you planned to do this week:
⏭️Beta6 sprint 75% done
🎨GreatAlbum app site redesign 100% done
📸Media recognition engine 50% done
📽️Demo video v5
📰1 Blog post
What did you accomplish this week? Did you do everything you planned?
What do you want to have done by the end of next week?
⏭️Beta6 sprint 80% done
🎨GreatAlbum app site design 100%
🎨GreatAlbum app site design implementation 25%
📸Media recognition engine 70% done
📽️Demo video v5
📰1 Blog post
What would you like feedback on from the community?
Project website
Which of these best describes the stage of your project?
Privately testing with users
KPI Dashboards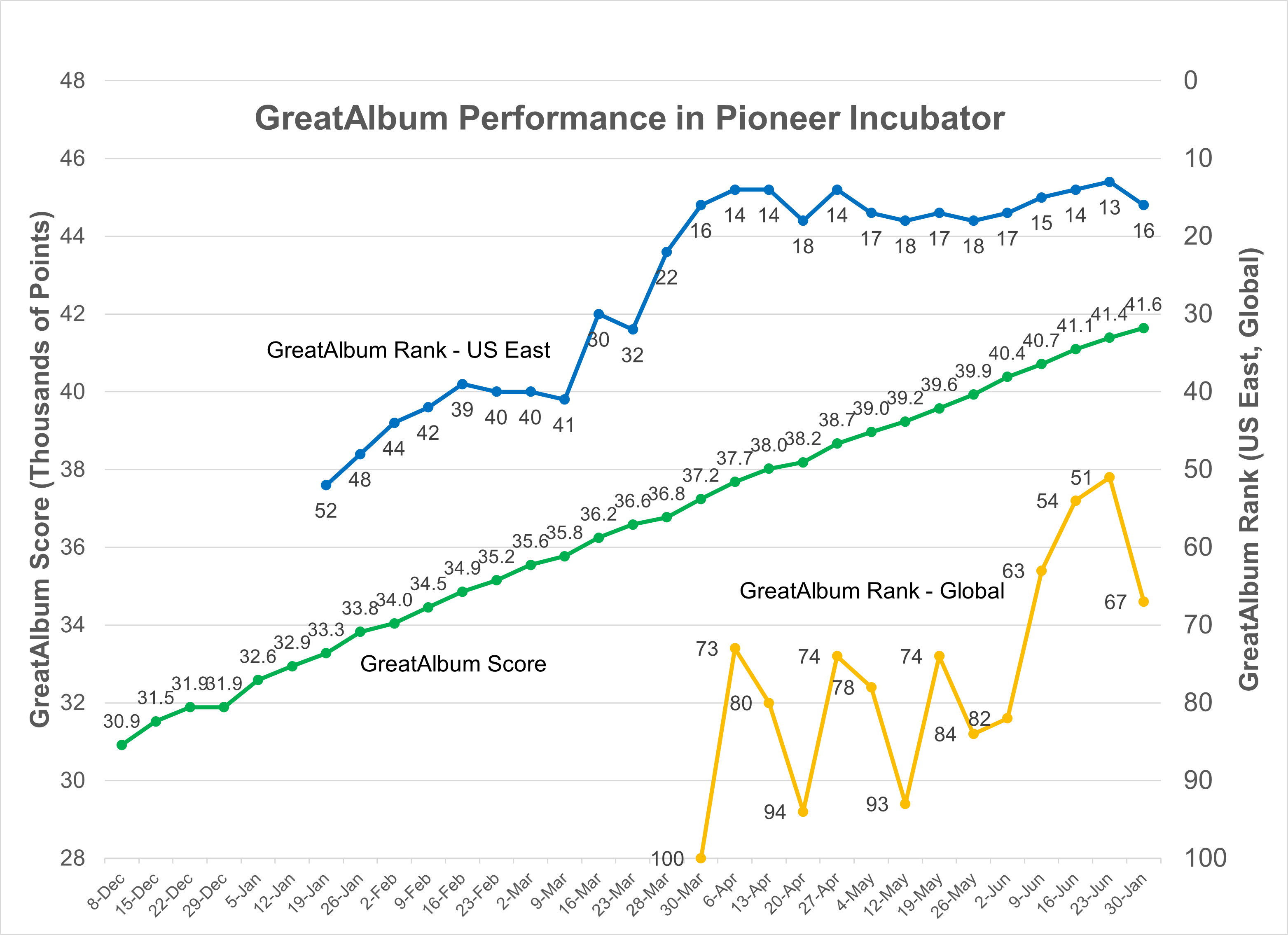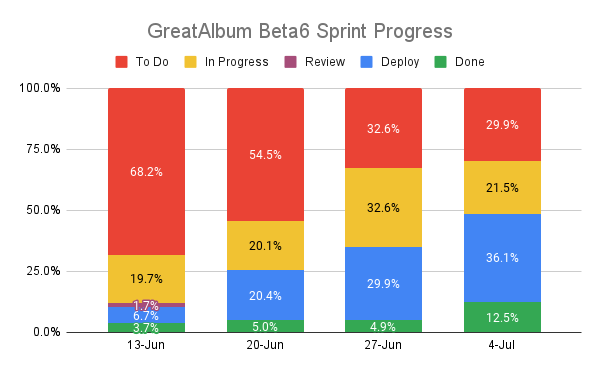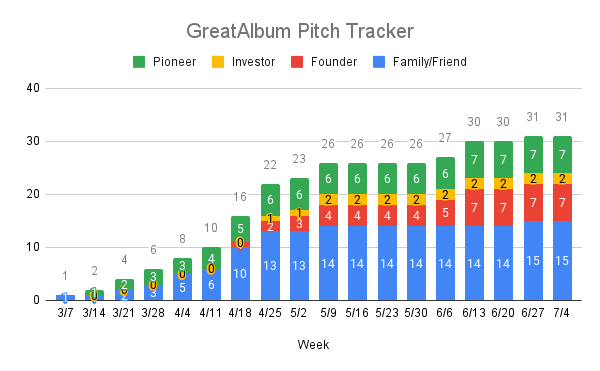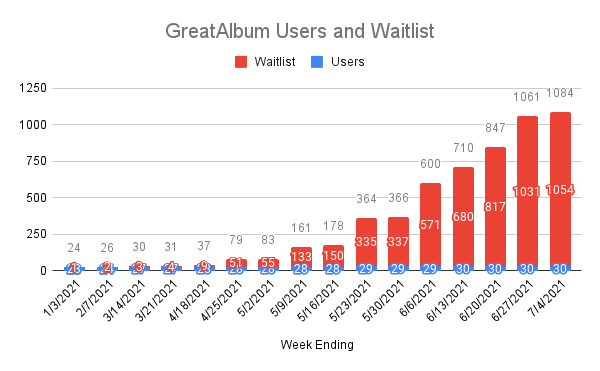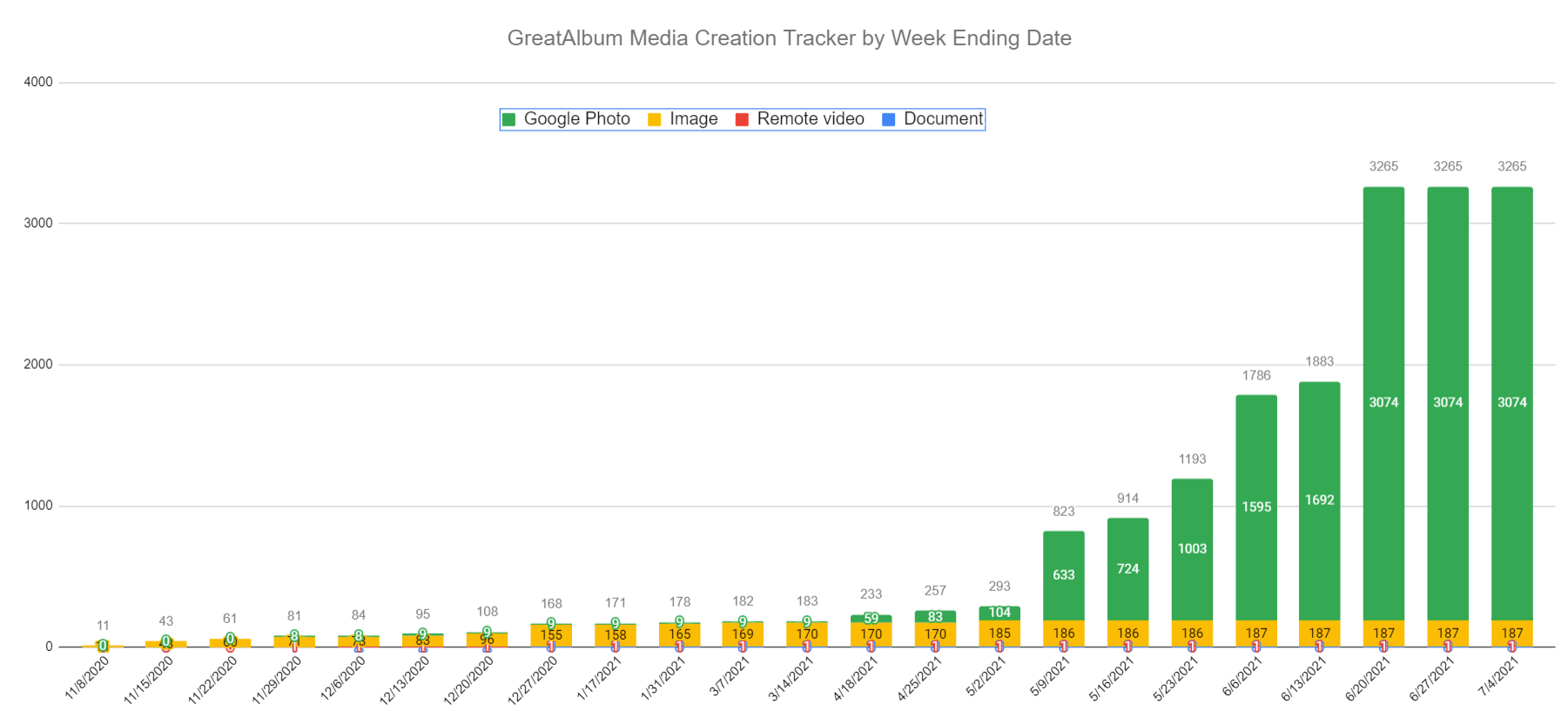 KEY FEEDBACK FROM PIONEER MEMBERS:
Love the progress from the previous week, those are some serious numbers!
The project itself sounds very handy. Though I questioned myself how different it would be from Google Photos which already is my primary photo storage.
Side note: I would love an app that would help clear the clutter in Google Photos and delete duplicates (and save on my storage!)
Wow! Amazing progress!!! Plus, I know you're on vacation :D (Hope it's going well). Now time to check those videos/links...
Pitchdeck - still laden with text (guest you're committed to that
Demo2 - Seema did great, but if you look at the link you'll notice "Album" is not visible at video resolution unless you expand
Either way, this is an awesome project I can't wait to see in user hands ASAP. Great job!
Great progress, well done. The website is good and has clear and concise information but could use more prominent calls to action. One other thing I would focus on is the value proposition - make it clear what problem you are solving (the pain) and why your solution (the pain killer) is better than all others in the market. Make it clear why I NEED GreatAlbum, rather than it being a nice to have. Good luck!
Related Issues
"No issues related to this Article"
Related Discussions
"No discussions related to this Article"