2021-08-01 GreatAlbum Update for Pioneer Incubator
Summary
The team has been really focused on four main priorities:
Decide on changes to host and DevOps workflows -- finally made a breakthrough to move from Pantheon to AWS
Getting media working with the OpenSocial distribution of Drupal -- building a new AWS instance on the newest version of OpenSocial seems to have fixed this!!
Implementing the new Figma designs for the app -- had to pause this to complete #1 and #2
Getting media cluster recognition engine working, as described in this blog post -- making slow & steady progress
We're hopeful that as we quickly rebuild GreatAlbum in the new instance, we'll finally be able to wrap up our current sprint, so we can re-launch our private beta. 
Watch demo videos at https://bit.ly/3uWvrhd and https://bit.ly/3fUkN6c
Submission
KPI: results
MVP2 launched:  3.4% of 100% -- as a result of rebuilding on new AWS instance
Google photos imported via API: 4728 of 4000
Users+waiting list: 1935 of 2000
What are you building in a sentence?
GreatAlbum helps you consolidate & organize your photos/videos across services/devices to share and relive experiences with family & friends
Here's what you planned to do this week:
⏭️Beta6 sprint 80% done
🎨GreatAlbum app site design 25% implemented
🎨Help site design planning
📸Confirm path to resolve media configuration challenges
📸Media recognition engine 50% done
📽️Demo video v5
📰Blog post
What did you accomplish this week? Did you do everything you planned?
📊Read article with KPI charts at https://bit.ly/3C4DXzt
⏭️Beta6 sprint 3% done - explanation in article
🎨GreatAlbum app site design 10% implemented
📸Media recognition engine - prototype done
💻Hosting - new instance of Drupal+OpenSocial running on AWS; migration in progress
What do you want to have done by the end of next week?
💻Set up new Design, Dev and Live instances for GreatAlbum on AWS
⏭️Rebuild GreatAlbum app in new instances
⏭️Beta6 sprint 80% done
🎨GreatAlbum app site design 25% implemented
📸Media recognition engine 50% done
📰Blog post
What would you like feedback on from the community?
Do you backup photos to iCloud or Google Photos? Which? How many?
How often do you share albums with others? How often would you like to?
Project website
Which of these best describes the stage of your project?
Privately testing with users
KPI Charts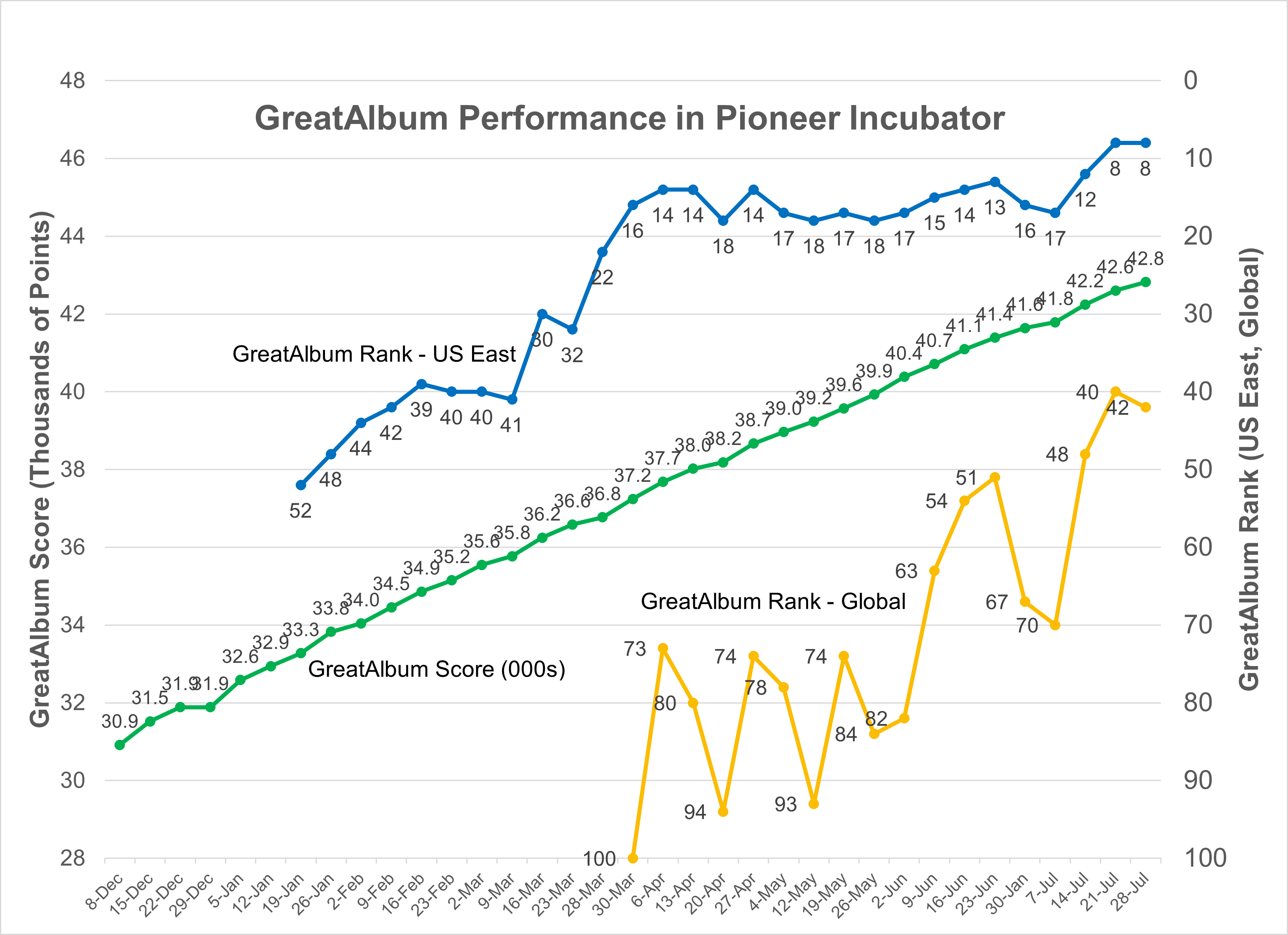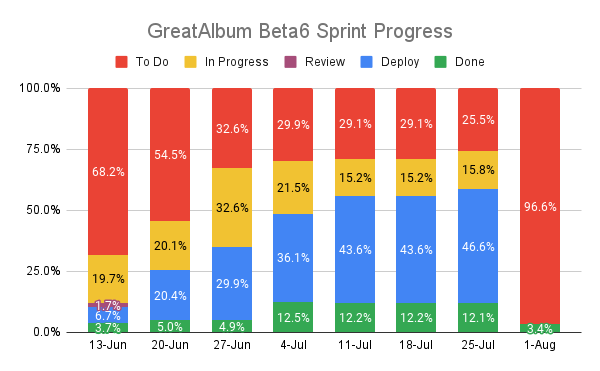 KEY FEEDBACK FROM PIONEER MEMBERS:
Have you tried using OpenAI's CLIP for automatically categorizing people's photos? You could easily add powerful search like, "A foggy day near a bridge" and it would work to surface relevant photos.
I back up all my photos to Google Photos, not iCloud. I sometimes create shared iCloud albums with friends, but my iCloud is full, and for whatever reason I don't want to pay Apple yet more 🙃
Couldn't agree more that personal data is getting so overwhelmed. Personally use both iCloud and Google Photos (Almost all pics). While I do get the gist of Greatalbum wonder how different is it from those above. I don't wonder you got this question n' number of times, but I guess that is the key to your success as well. So would be interested to learn about it. All the best for next week.
Hey guys,
Nice to see you again.
- I use Google photos mostly and i store the albums on multiple emails that i have to save from paying money haha.
- There are some in iCloud but i dont really use iCloud much, it's store accidently.
- I share Google photos with my friends if they were part of the trip, otherwise its just with me if i went on a solo trip
-I dont access them often once it's stored.
I wish you the best!
Related Issues
"No issues related to this Article"
Related Discussions
"No discussions related to this Article"