An Article is a way for a user to capture their perspective on what happened in an Event, or about an Individual or a Place. Usually, an article gets linked to all of these other content types. There are different kinds of articles, such as: Story, Letter, Newspaper clipping, etc. 
Add New Article
There are two main ways to create an article:
1. While viewing an Album, click the drop-down menu at the top of the sidebar and select Add Article. This will start a new article within the Album, but not linked to any other content type.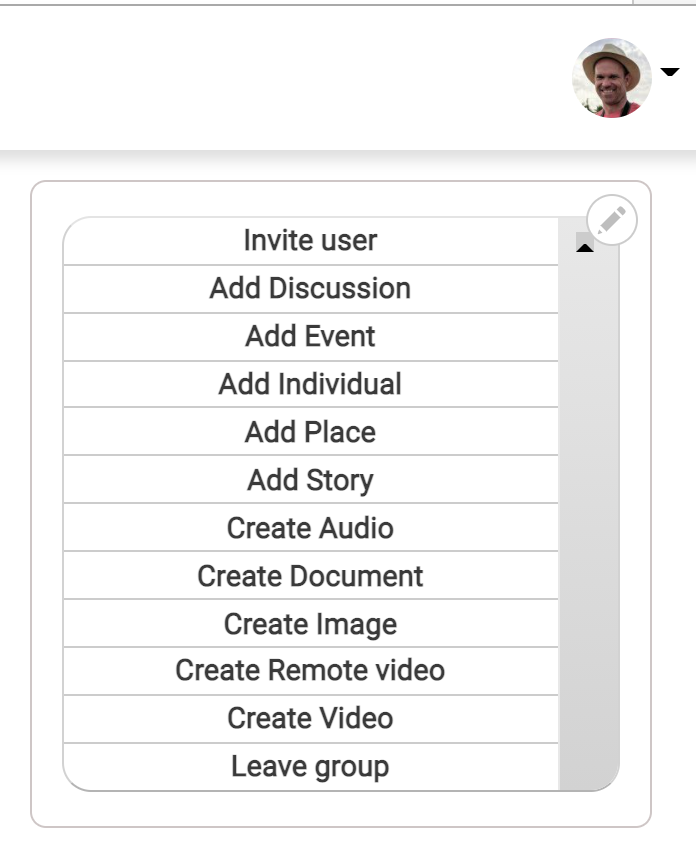 2. Display a content item about which you want to write an Article, such as an Event, Individual, Place or even a Media item (photo/video). In the display of that content item, you'll see a block of related Articles and a button to create a New Article. Click that to create a new article. You'll notice when you do it will be prepopulated with a link back to that content item you were just viewing.

For more information on the fields to complete while creating a new article, see the Add Article article.
Edit Existing Article
A story can be updated by anyone who is a member of the album to which the article belongs. The reason for this is so that members of an Album can collaborate on articles together, and are presumed to be able to trust each other when making updates.
Plus, there is an option to keep track of version history of an article, so you can always revert to a previous version if something got lost in an update. 
To edit an Article, click on the edit pencil icon in the top 
Display a Article
x
View Articles
There are several different ways to view lists of stories. Learn more in the Article Views article
Related Articles
Title
Author
Last Updated

Sort descending

Likes
Add Article
usha
30-May-20
1
Display Article
usha
30-May-20
0
View Articles
usha
30-May-20
0
Related Issues
"No issues related to this topic"
Related Discussions
"No discussions related to this topic"