2021-11-14 GreatAlbum Update for Pioneer Incubator
Summary

We've finally finished our long, sordid journey of rebuilding GreatAlbum and launching MVP2. Read more in this blog post. We've shifted the platform from Pantheon to AWS, rebuilt on top of Open Social, implemented the ability to import Google Photos and to organize clusters of photos into events with the click of a button. While we still have tons of bugs and feature gaps, we're excited to restart our Private Beta today, November 15th, and reengage with our most trusted users while we work feverishly to fix bugs and help our customers realize our dream!
If you'd like to see demo videos from our MPV1 app, watch https://bit.ly/3uWvrhd and https://bit.ly/3fUkN6c. New demo videos will be coming soon. 
Submission
Old KPI goals & results by Oct 31st
MVP2 launched: 100% of 100% 
Media cataloged in GreatAlbum: 5166 of 10000
Users+waiting list: 2626 of 3000
New KPI: Goals & results by Nov-30th
With the launch of MVP2, we've updated our KPIs to new metrics.
Weekly active users: 10 of 20
Number of media items: 0 of 10000
Number of content items: 0 of 500
What are you building in a sentence?
GreatAlbum helps you consolidate & organize your photos/videos across services/devices to share and relive experiences with family & friends
Here's what you planned to do this week:
⏭️Redo Beta5/6 sprints to rebuild GreatAlbum MVP 100% done
🎨GreatAlbum app site design 100% implemented
💻Explore and learn more DevOps options in our new set up on AWS
📰 Blog post
What did you accomplish this week? Did you do everything you planned?
📊Updated our KPIs & charts; read article at bit.ly/3qywBB4
💻Configured and released live site for new Private Beta
⏭️Testing and bug fixing 
✅MVP soft launched on 15th-Nov with complete site design
📰Launch blog post https://bit.ly/3wKGIU9
What do you want to have done by the end of next week?
⏭️Onboard 5 to 10 beta users
🎨Continued testing and bug fixing
📸Implement Google Photos importer and Media Cluster Recognition into MVP
📰 Blog post
What would you like feedback on from the community?
What's your first impression when you visit our site?
Is it clear how GreatAlbum is different from Google or Apple photos (read https://bit.ly/3j4xETg)? Why or why not?
Project website
Which of these best describes the stage of your project?
Privately testing with users
KPI Charts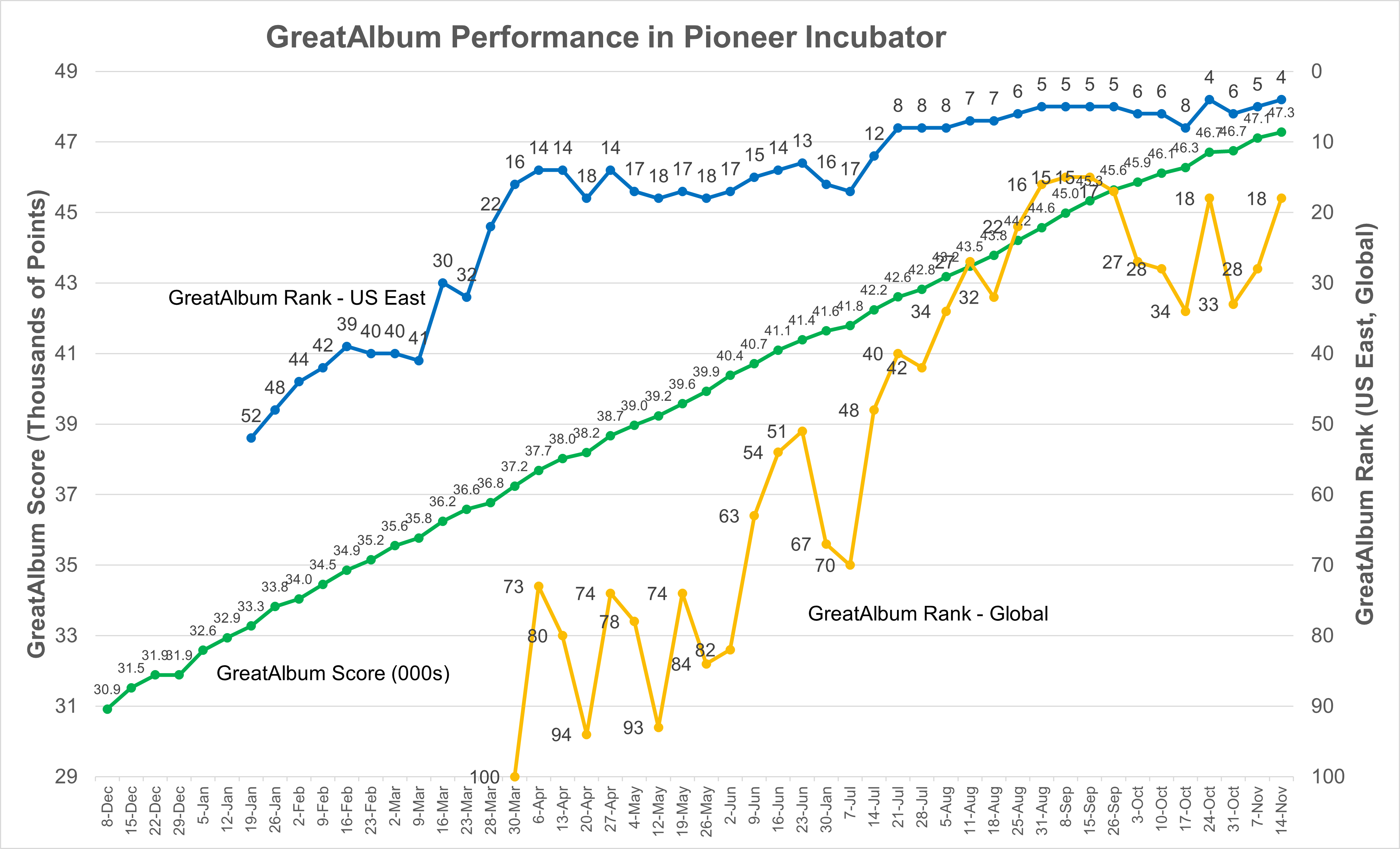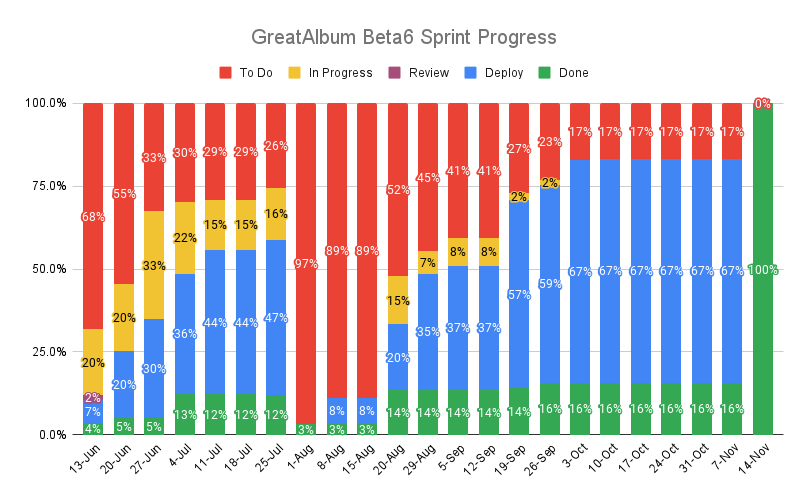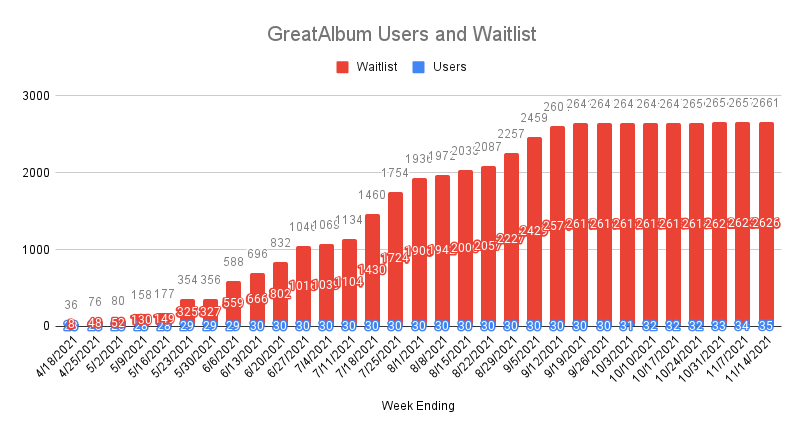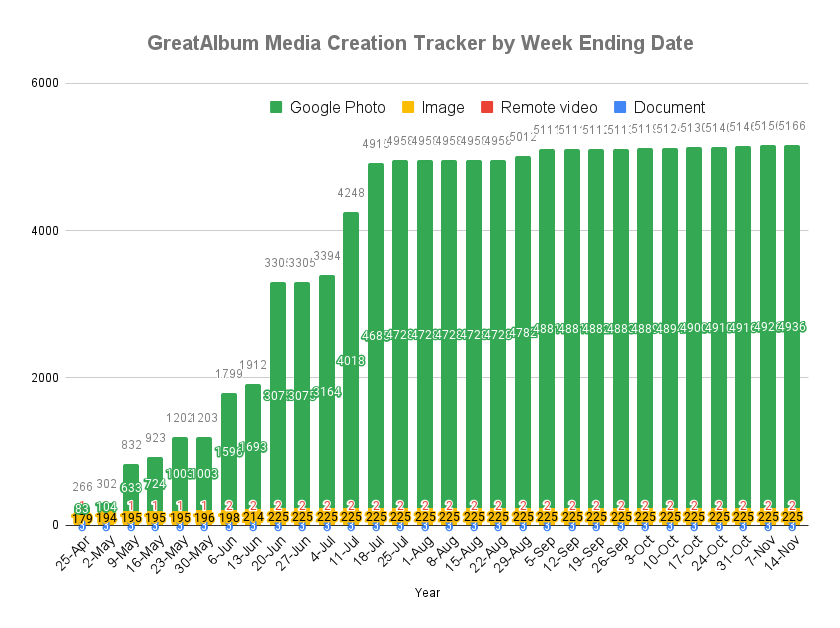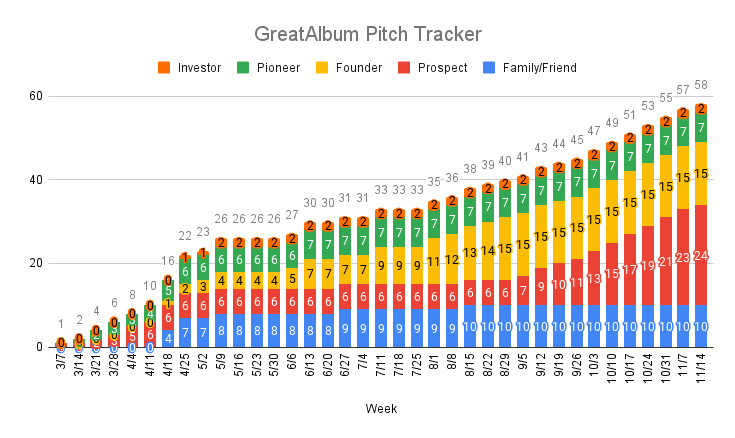 Related Issues
"No issues related to this Article"
Related Discussions
"No discussions related to this Article"